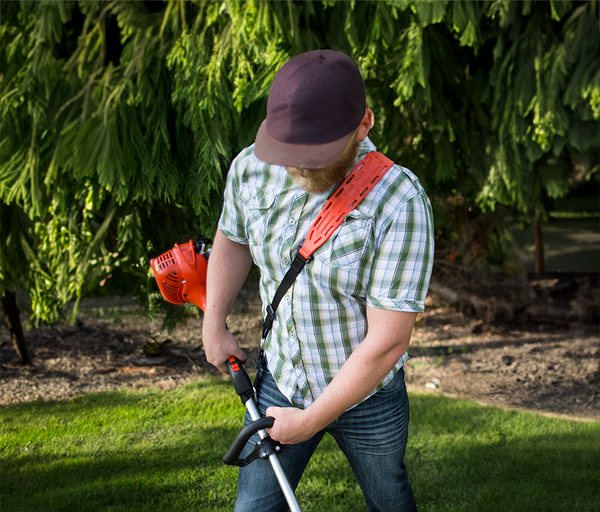 🍃 Revolutionize Your Yard Work with ComfortTech's Ultimate Weed Trimmer Sling
Experience unparalleled comfort with ComfortTech's Weed Trimmer Sling – a true game-changer in the market. This innovative sling is designed to effortlessly bear the off-center load while you're busy tending to your yard with the weed trimmer. Say goodbye to discomfort and hello to enhanced efficiency.

Crafted to securely embrace your shoulder without any digging or discomfort, our Weed Trimmer Sling boasts a standout feature – dual quick-connect and disconnect mechanisms. No more hassle of throwing it over your head to put it on or take it off. With a swift snap, you can effortlessly attach and detach it from the trimmer.

Whether you're a passionate yard enthusiast or simply looking to breeze through your chores, the ComfortTech Weed Trimmer Sling is an absolute essential. Elevate your yard work experience today.
💪Secure Your Hold with ComfortTech's Grip Wrap: Your Ultimate Grip Solution
Discover the ultimate grip solution with ComfortTech's Grip Wrap. Whether you're using a hammer 🛠️ or maneuvering a chainsaw, our Grip Wrap ensures a secure hold precisely when you need it most.
Installation is a breeze – just take the 16 or 24-inch wrap, encircle it around the handle, and effortlessly tuck it at the end. That's it! You're now equipped with a dependable, non-slip handle, ready to conquer any task, even with sweaty palms.
Our Grip Wrap is available in a variety of colors, perfect for everything from fishing rods to shovel handles. Make slippery grips a thing of the past with ComfortTech's Grip Wrap – an essential addition to your toolkit.